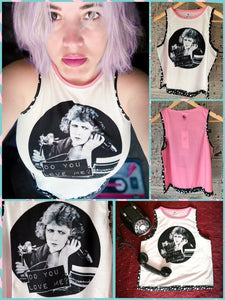 Regular price
Sale price
$29.99 USD

Do you love me? You wouldn't believe the amount of strangers who tell me they love me when I wear this out.

Crafted from soft fabric with a crew neckline & straight hem, this adorable tank top provides maximum comfort & style.
Perfect for summer or layering, this top has a contrast pink neckline, stars around the arms, sides & bottom and a pink back. Frickin unique, no one else will be wearing it. Give me all the love!
This tee is ethically made by hand, using eco friendly materials. (❁´.`❁)

Regular fit
Cropped silhouette
Straight hem, hits just above hips
Soft, breathable polyester/pandex
Crew neck
Sleeveless
Printed, cut & handmade 
•*¨*•.¸¸♡ live your bliss ♡¸¸.•*¨*•
even more! ☆*:.。.o(≧▽≦)o.。.:*☆